OriginPro/Origin 2021b
The University Information Technology Centre hereby informs that a new version of OriginLab software is available e.i. Origin/Origin Pro 2021b. This time the program has been enriched with key functionalities in the context of maps and files with *shp extension (shapefile data), extended Phyton language environment available from the Origin level, simplified import of files containing climatic data, additional new functionalities in the context of work with graphs. Traditionally, users of the software, together with the next version, have received new templates for graphs as well as other highly specialized applications to be implemented in the software environment.

Origin/Origin Pro 2021b
new function - Insert Map to Graph
facilitated worksheet calculations
extended collection of sample codes in Phyton
new mini toolbars for 3D graphs
import of NetCDFfiles
import and export of SQLite files
new functionality for graphs - Data Slicer
extended graph templates - Graph Templates
additional types of graphs:

Network Plots
Grouped Marginal Plot
Durov Plot
Ribbon Chart
further applications/modules extending the functionality of the program
OriginPro2021b software installers (available after logging into the UCN)
OriginPro2021 software installers (available after logging into the UCN)
Installation instruction:
1. Once you run the installer, accept the licence agreement first.
2. Next, select full installation of the product.
3. In the next step fill in the Serial Number field - GF3S5-3089-7909400
4. Confirm the correctness of the information entered.
5. Next, specify the directory where the software is to be installed.
6. Finish the isntallation by clicking the Finish button.
7. After you run the program for the first time, specify the folder where user's files will be stored.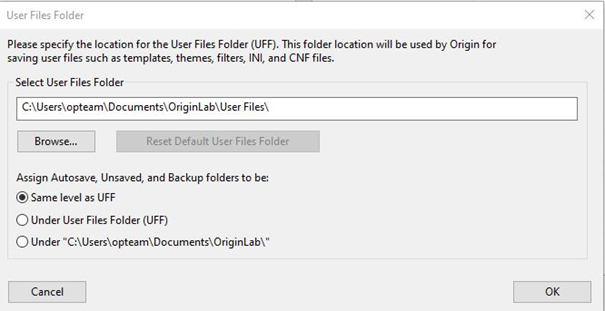 8. In the next step, enter the licence server information.
Serial Number: GF3S5-3089-7909400
FLEXlm Server: lm.zut.edu.pl
TCP/IP Port: 27003
9. Once the form is clompleted, click Update. A message will confirm that the license has been downloaded correctly.
Additional information: